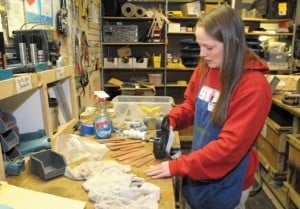 Christa Summers prices items while working at the Albany Habitat ReStore. The ReStores offer new life to previously used materials, a growing trend. (David Patton/Democrat-Herald)
Old blue jeans. Wine-stained barrels. Aged, weathered boards.
Most people would see these things and toss them in the trash. But a growing number of builders, artisans and homeowners are looking at them and seeing not an ending, but a beginning.
As reclaimed and recycled building materials grow in popularity, more and more old components are being saved from eternity in a landfill and given new life in someone else's home.
"It's about the lifestyle," said Ben Metzger, owner of Metzger Green Build, a Corvallis construction company that has worked extensively with recycled and reclaimed materials. "It's not just that you're not using a new thing. It's about saving an old thing from death and bringing it back to life."
Anyone who has walked by a work site knows that construction generates waste: a Dumpster full of wood scraps and carpet pieces is a normal sight. And if an old structure has to be torn down before a new one is built, even more trash is generated. According to the U.S. Environmental Protection Agency, building construction generates 170 million tons of waste annually – almost 60 percent of the nation's nonindustrial solid waste.
Over the past decade, however, more and more builders and homeowners are finding ways to take what would be trash and turn it into treasure.
'Re-building' options
Mike Baylor said that from doors to windows to light fixtures, Habitat for Humanity ReStores see thousands of items come through their doors rather than into landfills every year. Across the nation, Habitat ReStores and other re-building centers are part of a growing network of places where contractors can drop off their leftovers, and bargain hunters can come search for secondhand building materials.
"You see a lot of fun stuff come and go," Baylor said.
The EPA estimates that more than 1,200 re-building stores are in operation nationwide. The Albany ReStore celebrated its 10th year in business in March. Baylor said the Albany store alone has saved more than a million pounds of building material from the landfill.
Metzger said that consumers in the environmentally conscious Pacific Northwest are especially receptive to the idea of using reclaimed and recycled materials. He's been in business five years and in the construction industry for 15 years, and he said he's seen a continued growth in the use of reclaimed and recycled materials.
Metzger said that he often looks for reusable pieces on the job. For instance, paperstone, a Corian-like solid surface counter top material, can only be sold by the piece, and he often sees excess chunks of it.
"The leftover piece from one person's kitchen counter might become someone else's small bathroom vanity," he said.
Deconstruction
Of course, it's not always that easy.
"The trouble is warehousing. You can't necessarily just take it from one job to another. You have to have a place to keep it, and that's the challenge, getting it from point A to point B," he said.
What's more, it takes time to pick through old structures in a process called deconstruction – more time and manpower than it does to bring in heavy machinery and smash it to bits.
"There is an embodied energy involved in getting it back in as a second or third life," Metzger said.
But when it does happen, the traces of those previous lives can add value to the reclaimed product.
Chris Vitello, owner of the EarthSmart store in Corvallis, sells many items that used to be something else, from insulation made of shredded blue jeans to furniture made of old barn wood. He said that some customers come in looking for reclaimed and recycled materials mainly for environmental reasons, while others want something more.
For instance, the furniture made from old barn wood – it's not just any barn wood, but wood from a barn in Brownsville, a barn that, legend has it, once contained buried treasure. You can still see the original sawmill marks on the boards that make up the chairs.
"It's a local story," he said. "There's a connection to the product. And when you tell people about the products, they just love the story."
Metzger said that materials can come from anywhere – flooring from old gymnasiums, wood from sunken bays in the Philippines, barrels from Jack Daniels distilleries in Kentucky. "When you use something like that, it becomes this huge conversation piece," he said.
He's currently working on making furniture out of old wine and whisky barrels. "They're still perfectly great pieces of wood," he said. "The smell is almost overwhelming, and it's this deep wine purple. It's a very tactile experience to work with."
Read the rest of the article here