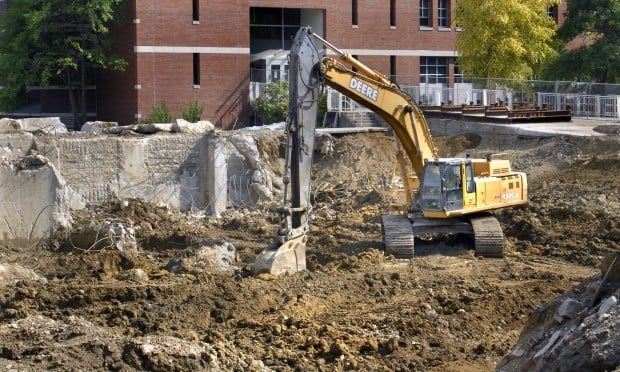 Heavy machinery for Stark Excavating dug into the basement area of the former Sheean Library at Illinois Wesleyan University, Tuesday, August 16, 2011. Materials from the demolition are being recycled. (The Pantagraph, David Proeber)
Read more: http://www.pantagraph.com/news/local/education/article_343e3ef4-cd32-11e0-ac31-001cc4c002e0.html#ixzz1Vxdno6fU
In razing its old library, Illinois Wesleyan University didn't just send a bunch of crumbled rock to a landfill. Most building materials were salvaged for reuse and some, in fact, will play a part in the university's future.
Stark Excavating crews, handling the demolition of the former Sheean Library, have spent July and August separating metals and concrete masonry as they knock down the sturdy 45-year-old structure.
Much of the crushed concrete will create a "lay-down yard" for a new classroom building, creating a graveled space for equipment storage and other uses.
A construction date for the new building won't be set until fund-raising is complete.
"Almost none of (Sheean) goes into the garbage," said Stark spokesman Garry Moore, explaining it's become the norm in the past two decades to try to recycle materials in commercial demolitions. "Recycling is really something our whole society needs to be doing."
Illinois Wesleyan leaders agree, and say the project is an application of the school's sustainability
focus. Sheean closed when Ames Library opened in January 2002.
"It's just good practice. It's a common courtesy anymore to recycle," said IWU physical plant director Bud Jorgenson. "The easy way out would be to just throw it all away. But that's not right."
Culling mercury, glass
Other materials, such as fluorescent lamps, are sent to specialists who cull reusable mercury and glass, Jorgenson said.
Recycling Sheean's building materials helps IWU meet construction standards set by Leadership in Energy and Environmental Design, he said.
Most of Sheean's recycled materials will come from the building's concrete masonry and bricks. Stark uses a giant jackhammer on a backhoe to crush concrete; a grapple device can pinch materials and then crush those, too, said Moore.
Economical approach
Recycling is not just good for the environment, it's also economical. "It would cost Illinois Wesleyan to dump, and that's expensive," said Moore, who said transportation adds to the cost.
Boston-based architects Shepley Bulfinch Richardson and Abbott designed the new building, which will house tech-savvy classrooms, resource rooms, study areas and faculty offices for business administration and economics departments.
Shepley Bulfinch also designed the $25.7 million Ames Library and the $7.1 million Hansen Student Center renovation.