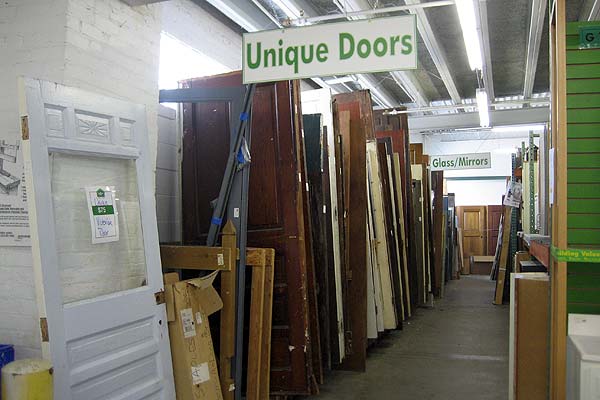 When shopping for salvaged windows or doors, make sure they're square and the hardware is functional. Image: Liz Foreman for HouseLogic
Read more: http://www.houselogic.com/blog/remodeling/salvaged-building-materials-shopping/#ixzz1W3ROl7Ht
Buying your sinks, mantels, windows, and other remodeling materials from a salvage yard or one of Habitat for Humanity's ReStores pays double environmental dividends.
First, using recycled and salvaged building materials keeps those products out of a landfill. Second, you reduce demand for the energy and raw materials needed to manufacture a new fixture or building component.
On the big plus side: salvaged building materials are beautiful examples of a bygone era when craftsmanship was king.
Successful salvage shopping takes some savvy to get what you need and avoid headaches when it comes to fitting your salvaged treasures into your remodeling project. Try these tips for remodeling with repurposed materials: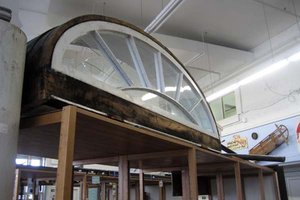 Measure, then re-measure, then ask someone to check your measurements before you buy so you're confident the materials will fit into your home.
Check to make sure old windows and doors are square, and that small parts, such as hinges and door hardware are functional, or at least can be repaired or replaced.
Balance your budget. Unusual and antique materials aren't necessarily cheap — you could pay more trying to fit a vintage pedestal sink into your small bath than you would for a modern pedestal sink on sale at a home store.
Check dimensions carefully. Standard sizes, such as door thickness and the size of framing lumber, have changed over the years. Ask the store manager about the product you plan to use and how it compares to modern materials.
Is there enough? You may love a set of vintage oak cabinets, but you might need more than what's available at the salvage store. Get creative by mixing old and new materials, or using fill-ins, such as shelves.
Watch for hidden hazards. Years ago, folks didn't recognize the dangers of lead paint and asbestos. Old wiring may not meet modern electrical codes. Ask the store manager if they examine and test their products.
Get an expert. Hiring a contractor who has experience working with recycled materials can help you overcome most of the challenges of working with repurposed materials. Ask the manager of your local salvage store, or friends who've done similar projects, who they'd recommend.
Got a great use for a salvaged building materials? Give us your insights!
via Salvaged Building Materials Shopping Advice | Architectural Salvage.