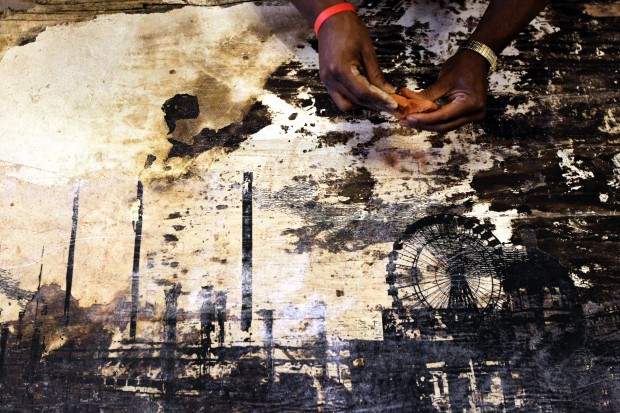 ST. LOUIS • Basil Kincaid's brother makes fun of him for collecting rusty paper clips he finds in the street. But rusty paper clips are only the beginning.
Kincaid, an artist, has taken to combing St. Louis alleyways, lots with abandoned buildings and construction sites for discarded pieces of wood, old bricks, pieces of slate and other items deemed no longer useful.
They're useful to him.
He transforms the junked wood into canvases. He applies images composed from photographs he takes around the city. He blends dust from finely ground bricks, slate and Missouri limestone into polyurethane that he paints onto the wood.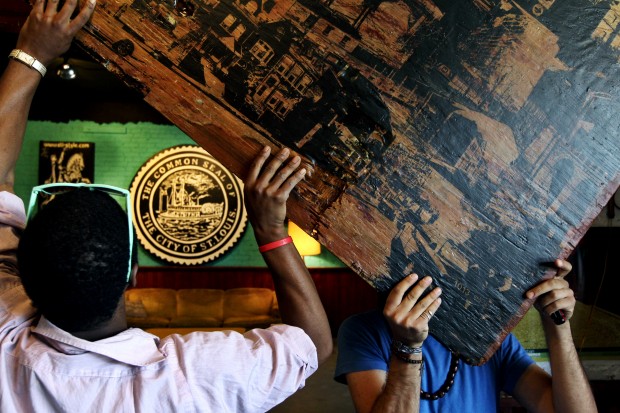 "All of the materials come directly from the street," said Kincaid, 25, who is producing his artwork at the Pulse Community Art Center, 2847 Cherokee Street, where another body of his work is now on display. "Everything is related to our environment, being St. Louis."
The theme of his new work is reclamation.
"I take these images of dilapidated buildings and nice buildings as well — pictures from all different parts of St. Louis — and collage them together to build this new city, so that when the audience comes together … they see we all grow out of the same environment," he explained. "The focus is really community-minded."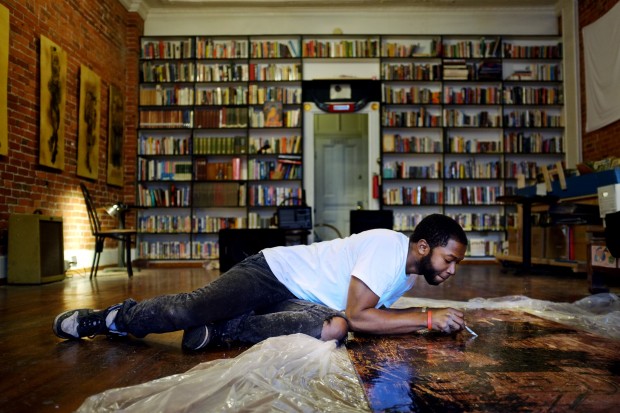 Kincaid, who grew up in Rock Hill and graduated from Colorado College, has a deeper purpose as well. He wants other young African-Americans to have the opportunities he has had. To that end, he said, he mentors three children from the city and has a 19-year-old assistant who is studying art at St. Louis Community College at Forest Park.
"The grand, overarching theme of reclamation goes beyond just this body of artwork," he said. "It provides an ability for people, and the kids I work with, to reclaim their own identities and understand themselves within the true beauty that we all love."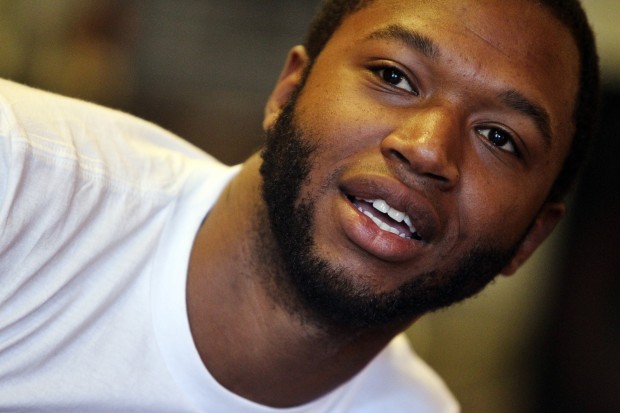 Kincaid's assistant, Roosevelt High graduate Monkuell Barnes, has been working with Kincaid for about a year. Before they met, Barnes wouldn't have given an abandoned piece of wood a second look.
"I wouldn't have found beauty in any of that," Barnes said. "But it's taught me that beauty can come out of anything, really. You can make beauty from the ugliest things.
"I think he's focused in on a very, very huge issue that's going on in urban society… and he's doing it through his art."
via St. Louis street artist turns the obscure into a canvas of urban life.