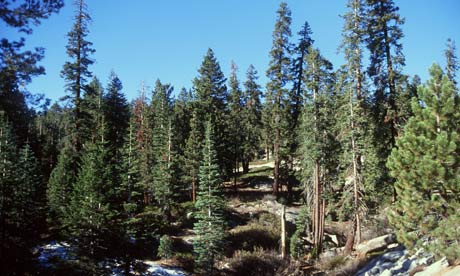 Valuable wood sourced from redwood trees is being routinely wasted in the US. Photograph: Graham Whitby-Boot /Sportsphoto Ltd/Allstar
Home building has long been one of the most important industries in the US, with economists viewing statistics concerning new homes as a barometer for the countrys economic performance.
Americans affinity for newer and bigger homes, however, comes with a huge environmental cost. The recent foreclosure crisis is just a reminder of all the resources waste on millions of homes that have been abandoned and, yet again, remodelled. One precious resource used for these buildings that often goes unnoticed and is then lost forever is wood.
The remodelling and demolishing of homes in the US results in the equivalent of 250,000 single-family homes being interred in landfills or incinerated each year. Among the dry wall, plastic and concrete that are disposed of is lumber sourced from Americas forests. Within this lumber, there is also wood from older homes. This is especially valuable because it is of higher quality than material used in most new construction projects.
Wood in homes built 50 years ago or earlier was often sourced from first-growth forests. Whether a small, older home being destroyed for a larger, more modern home, or a historic beach-front house being targeted for removal and upgrade by a presidential candidate, these houses are a treasure trove of sturdy wood that builders should reclaim. Entrepreneurs can find lucrative business opportunities as salvaged or rediscovered wood is in high demand.
Current construction and demolition C&D techniques, however, are destructive and render most wood completely useless. Too much wood enters the C&D waste stream and then disappears forever. Of the approximate 70m tons of wood sent to landfill annually, the US government estimates 30m tons of it could have been reused.
Currently about 10% to 20% of wood discarded during construction projects is prevented from entering landfills. Pallets, however, account for most of that material, and hence that lower-quality wood is often shredded and used for mulch. But while aluminium, glass, paper and plastic are often culled for recycling from construction sites prior to final disposal, wood is overlooked and is about 17% of the waste that ends up in municipal dumps.
Meanwhile, valuable woods including Douglas fir and redwood, which could be repurposed for several more decades of use, are wasted. Evidence suggests that more tactical demolition practices can actually save and generate money for construction projects from reduced landfill fees and the sale of salvaged wood.
The national trade group for companies tasked with tearing down buildings, the National Demolition Association, has long claimed its member companies have been "environmentally responsible". Rhetoric aside, however, the association now cajoles companies to consider the smarter reuse of materials and increased diversion of waste from landfill, both of which can give builders more points if they are building a LEED-certified project.
Smarter demolition can also create good business opportunities for companies that undertake such projects at a lower cost in return for the rights to all recyclable materials. Careful deconstruction of old structures also creates business for local companies that cater to consumers who want their homes to become more eco-friendly.
Read the entire article via Recycled wood: the green key to a sustainable built environment | Guardian Sustainable Business | Guardian Professional.