Being Jersey, this is a might suspicious.
Being that I am from Jersey  (right down the street from O.C,) I say this is business as usual.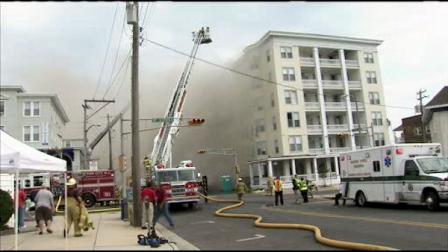 OCEAN CITY, N.J. – September 28, 2012 (WPVI) — Fire officials say a blowtorch sparked an accidental fire that severely damaged a vacant century-old hotel on the Jersey Shore where demolition had begun this week.
The blaze at the Bellevue Hotel blanketed blocks of Ocean City's downtown with heavy smoke before firefighters brought it under control late Friday afternoon. No injuries were reported.
Ocean City Fire Chief Christopher Breunig tells The Press of Atlantic City that demolition crews arrived at the 104-year-old building early Friday and spent a few hours using blowtorches to cut off metal fire escapes before taking a break.
When they returned, they saw flames and tried to extinguish them, but the fire quickly spread. The structure had two connected sections – a six-story hotel built in 1908 and a four-story addition built about 1940.