Plugging my Day Job yo!
Insulation is blown into the home of Roy and Kim Fox in Portland, Ore. EcoTech modified its equipment to avoid damaging the home, which was built in 1884. | Photo courtesy of Roy Fox |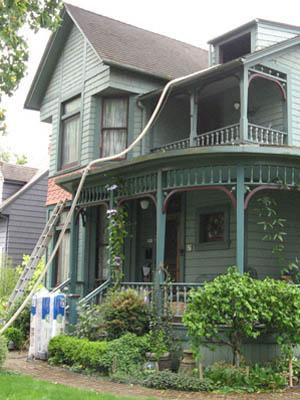 Runkel says the Weatherization Meets Historic Preservation event was a "great educational tool." The majority of Portland's homes were built before World War II and residents are worried about destroying the "historic character" of the homes if they make improvements, he says.

The event provided a way to introduce a discussion about home energy upgrades, Runkel notes. "It gave them some handholds and footholds of understanding the concepts of energy efficiency."

"And it was a lot less intimidating to consider what could be done," he adds.

Runkel praises the homeowners for the success of Weatherization Meets Historic Preservation. "This is one of those cases where it really was the initiative of the Foxes."

The project was important, Roy explains, because it proved energy efficiency upgrades could be done in a way that doesn't harm historic homes. "If people are willing to do a little creative thinking, you really can leave the old fabric of the house intact."
Please take a moment to read and be inspired by the article via Portland Company Weatherizes, Preserves Historic Home | Department of Energy.