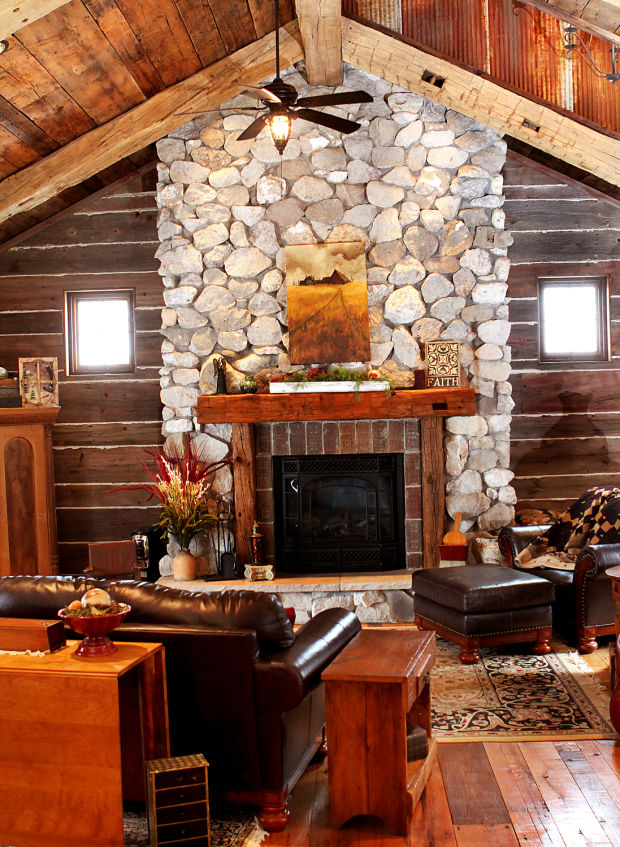 With the walls, ceiling and floor made of salvaged wood and other items, Lanette and Jim Carlson's great room serves as a showroom for their business, Carlson's Barnwood Co., in rural Henry County.  Jeff Cook photos, QUAD-CITY TIMES
The show's theme is "keeping it local," and that fits right in with what the Carlsons do. They salvage materials from a roughly 100-mile radius and re-mill the lumber in a shop on their property, employing several full- and part-time workers.

But from there the Carlsons cast long lines, selling to homes and businesses, particularly restaurants, all over the country, and even overseas. Pictures of high-end homes incorporating their products, particularly in Colorado and California, are posted on their website.

When the Carlsons started, they mainly sold raw barnwood and other artifacts that could be used as "decor." But in 2001, they began manufacturing reclaimed flooring, and that has become their biggest product, Lanette said.