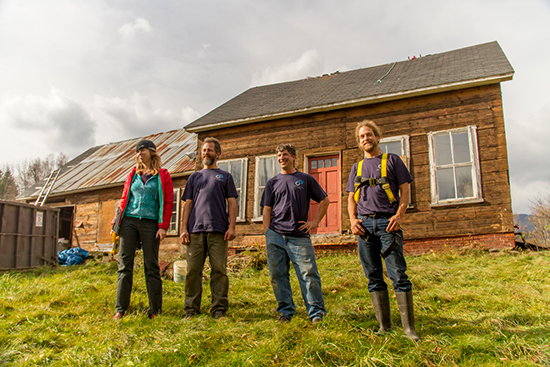 Deconstruction Works crew and Liza Walker, Mad River Valley director for Vermont Land Trust, in front of Tenney farmhouse on Marble Hill in Fayston. Photo: John Atkinson
In an effort to revitalize the Tenney property on Marble Hill Road in Fayston as a working farm and forest in the Mad River Valley, Vermont Land Trust has contracted with Deconstruction Works to remove one of two farmhouses located on the property. Deconstruction Works is a team of deconstructionists specializing in the salvage and repurposing of the built environment. The team will carefully dismantle, salvage and repurpose components of the red farmhouse located at the top of Marble Hill Road. This undertaking is driven by the significant disrepair of the building and the financial burden that would be transferred to the next farm owner if it were left on the site.
via The_Valley_Reporter – Vermont Land Trust removes Tenney house for reuse and farm's renewal.