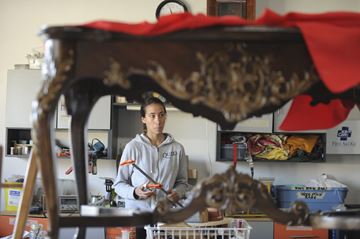 Furniture Bank Staff photo/DAN PEARCE
Tanya Rausch works on her project at the Funiture Bank Thursday. Five Aboriginal youth from Miziwebiik social agency are apprenticing in carpentry and upsholstery in the charity's new funiture workshop.
Since the workshop opened in April, participants repaired, refinished or repurposed 1,000 pieces of furniture soon to furnish the home of a person or family in need.
via Furniture Bank breaks barriers to employment by training Aboriginal youth in carpentry, finishing and upholstery.