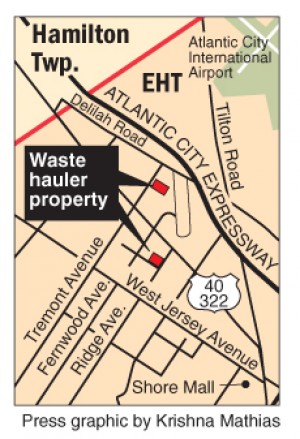 This is a long but insightful article on an illegal waste facility and a NJ legal system that failed to do anything about it for the last 20 years.  Citizens are uninformed and unaware of regulations for waste and waste haulers all over the country.  Here at the RA we will be starting a project to help change how people (don't) see C&D waste.  It's called the Drop Box Brigade, and we hope something as simple as a picture will inspire community involvement in C&D waste disposal.  Ironically, the waste hauler is called "Magic Disposal". Not so ironically, I was born about twenty miles from this site.
By WALLACE McKELVEY Staff Writer |
Atlantic County is seeking a court ruling to stop an Egg Harbor Township waste hauler from operating an alleged illegal solid waste facility off the Black Horse Pike.
A complaint filed last month accuses Steven Waszen, who operated Magic Disposal until January 2010, of dumping solid waste and hazardous materials, including asbestos, and maintaining a public health nuisance at the property he owns at 2520 Tremont Ave. in the Cardiff section of the township.
On May 20, a county Division of Public Health inspection revealed 99 solid waste containers, two of which contained asbestos; an estimated two yards of construction and demolition debris; a 10-foot-high pile of scrap tires; leachate — or liquid discharge — forming puddles on the ground; and a trash compactor truck emitting "foul odors and draining foul leachate onto the ground" at the site.
When inspectors returned July 14, they reported finding 106 solid waste containers and a "very strong odor" of garbage. The asbestos material, leachate and scrap tires remained on the property, while the trash compactor had been removed.
This is not the first time Waszen has been connected to such allegations.
In 2007, the state Department of Environmental Protection imposed a $700,000 fine — which, according to the DEP, has never been paid — against the company for violations at its now-closed Ridge Avenue facility, which Waszen operated from 1996 to 2005. Two years later, the department banned Waszen from the solid waste industry and revoked Magic Disposal's certificate to operate a solid waste facility, or Certificate of Public Convenience and Necessity.
After protracted legal battles, both decisions were upheld by state Superior Court.
In December, the DEP also excluded Waszen and Magic Disposal from most recycling activities in the state, a decision DEP spokesman Larry Hajna said has not been appealed.
Waszen could not be reached for comment. Attorneys who have represented Waszen in the past declined to comment or did not respond to messages.
Officials at the local, county and state level say it is difficult to prosecute Waszen or to enforce the judgments that have already been made.
"He gets fined, then there's a court order we've got to collect and, if he doesn't pay, we're back in court again," County Executive Dennis Levinson said.
Magic Disposal also owes Egg Harbor Township more than $4.3 million in fines for failing to obtain building permits for a garage at its Ridge Avenue complex.
Although technically that figure has continued to grow in the absence of payment, Township Administrator Peter Miller said building officials stopped calculating the fines in 2010. Miller said the legal costs to bring Waszen to court would be greater than the partial amount a judge would likely award the township.
With the Ridge Avenue facility closed and the county now prosecuting Waszen for his Tremont Avenue facility, Miller said the point is moot.
"Their issue is more significant than ours over whether he got the proper permit in a timely fashion," he said.
Levinson said it is frustrating that the county and the DEP's enforcement efforts are constantly hampered by court appeals.
"We do what the law allows us to do," he said. "If what we're doing isn't sufficient, then that's up to the state Legislature to make laws that will allow us to proceed in a more timely fashion."
Rick Dovey, president of the Atlantic County Utilities Authority, said Magic Disposal has been a well-known problem operator for 20 years. It's one of the few remaining companies that makes skirting the law a "consistent method of operation," he said.
"I just know if ACUA or any other public entity were to do that, we would be noticed and fined appropriately, and quickly," he said.
One issue, Dovey said, is that most people aren't familiar with the regulations for waste haulers.
"Most businesses don't even know they're supposed to be licensed," he said. "If somebody has a trash truck and says, 'This is how much I'll charge you,' they won't ask to see your license."
The county's action came as a surprise to most of the Tremont Avenue facility's neighbors.
Dan Wilhelm, 55, who lives behind the facility on Windsor Drive, said he has not heard or smelled anything from the site since the owners erected a mound of dirt, which acts as a sound barrier, nearly a decade ago. Before then, there was a near-constant odor emanating from the lot and regular truck traffic.
If the owner has continued dumping on the site, Wilhelm said, he's glad the county has stepped forward to prosecute.
"They got to stay on that stuff — not just him, but all of them," he said.
Aside from the occasional smell, especially during the summer, neighbor Eliezer Echevarria, 52, said he has not had any recent problems with Waszen. "If you came here 18 years ago, it'd be a different story," he said.
The Ridge Avenue facility, which is not subject to the complaint, is similarly quiet.
Neighbor Calvin Tureaud, 54, said there has been little activity for about two years. Gone is the stench of decay wafting in the breeze and the armada of trash trucks before 5 a.m., he said.
The legal system worked for his neighborhood, at least, Tureaud said.
"We had to put up with it for years and years until the neighbors got together and said 'enough is enough,'" he said. "We had to go to Town Hall and to the freeholders and board meetings, but it finally worked."
When the facility did close, Tureaud said it happened nearly overnight.
"Nobody notified us first. They just started to pack up," he said.
Contact Wallace McKelvey:
609-272-7256
via Atlantic County seeks halt to Egg Harbor Township waste hauler's dumping – pressofAtlanticCity.com: Breaking News.