discount.
ShareThis Email PDF Print
Participants in a deconstruction class get hands-on experience in dismantling a shed into recyclable and reusable components.
Being able to get someone training they need to be more successful as an employee or business owner is really what makes this all worthwhile.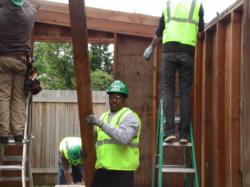 Casper, WY (PRWEB) September 09, 2011
In partnership with national Green Jobs training provider CleanEdison, Casper College is offering a new training program for Wyoming contractors and novices looking to enter the Green economy. Program administrators at Casper College are thrilled to announce this tremendous opportunity for Wyoming residents to be introduced to new skills and training in these promising new sectors. "Being able to get someone training they need to be more successful as an employee or business owner is really what makes this all worthwhile." said Sarah Olson, Workforce Training Specialist at Casper College.
Following the successful Geothermal training conducted last March, Casper College is now offering Deconstruction & Materials Re-Use training in combination with Lead Renovator (Lead RRP) training. The Environmental Protection Agency (EPA) now requires that firms performing renovation, repair, and painting projects that disturb lead-based paint in pre-1978 homes, child care facilities and schools be certified by EPA and that they use certified renovators who are trained by EPA-approved training providers to follow lead-safe work practices. Firms that fail to comply with EPA's new Lead RRP training rule may face civil fines up to $32,500 per offense and an additional criminal fine of $32,500 plus imprisonment for knowing and willful violations.
This new training is available to all Wyoming citizens regardless of income, residency, or employment stat State Energy Sector Partnership grant awarded to Casper College from the Department of Labor as part of the American Recovery & Reinvestment Act. Whereas these in-demand certifications normally cost anywhere from $800 to $3,500, this grant allows contractors to receive the same national certifications for $75 for the Lead RRP or $100 for the Deconstruction course, which also includes OSHA certification.
Students who complete the training will be certified to perform work in accordance with new EPA requirements and, should they go on to the Deconstruction portion, be prepared to work on projects that use this sustainable and economical alternative to traditional demolition in which up to 90% of materials are salvaged for reuse. Students will learn the various principles of Deconstruction and materials reuse as well as the ways in which these practices contribute the overall green building and sustainable design movements that are fast-becoming the accepted standard for new construction around the country. The combination of classroom practicum and hands-on field training will enable training participants to quickly transition into the expanding green job market. Wyoming residents interested in participating in this reduced-cost program should contact Sarah Olson at Casper College, at 307-268-3111.
About CleanEdison
CleanEdison, Inc. is the nation's leading green job training provider, offering award-winning green education services to individuals, companies, federal, state and local governments. Our mission is to promote sustainability and green building practices by offering best-in-class education and expert advice through our customized consulting services and the largest green training program in the nation. Winner of the 2009 CTN Green Excellence Seal for Green Education, CleanEdison is part of the US Green Building Council's Education Provider Program and an approved affiliate of the Building Performance Institute (BPI). Headquartered in New York, CleanEdison offers courses in BPI Certification, Energy Auditing, LEED, Solar, Wind and Renewable Energy. To learn more about CleanEdison, please visit http://www.cleanedison.com or contact Megan McInroy at 646-723-4532.