By Joel Scanlon
Hurricane Hauling and Demolition, a demolition and hauling company based in Marin and providing its services all over the greater Bay Area, declared that it has lately started a tear down project utilizing the deconstruction process.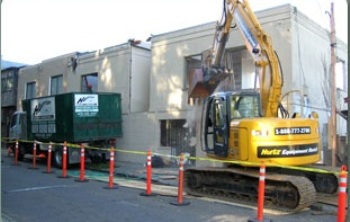 Demolition services of Hurricane Hauling and Demolition. Credit: Hurricane Hauling and Demolition
The process prevents the demolished materials from reaching the landfills, instead allows them to be recycled and reused, thus saving the earth from wastes and assist the owners with savings. The company banks on its deconstructing ability to reuse most of the wastes from the projects.
Though the deconstruction process consumes more labor than straight demolition it assists the home owners to save money. The process breaks down a building to its smallest parts separating electrical fixtures, plumbing, carpeting materials, windows, doors, cabinets, shingles, plywood and lumber carefully for reuse or donate them as salvaged materials.
The company is currently engaged in a deconstruction process at a house in Mill Valley. The owners of Mill Valley analyzed the demolition and deconstruction options and opted for home deconstruction after finding the method lucrative from the financial point of view as well as from an ecological point. The deconstruction process while enabling the reuse of materials also allows for a substantial amount of tax credit, which can be spread over a number of years. The process also notably cut down the charges related to the hauling of materials from the demolition site and disposing them.
According to Molly Samietz, Donation Solutions' founder and appraiser of the deconstruction project at Mill Valley, a properly performed deconstruction project allows reuse of around 85% of content, which can be either reused or donated thus reducing the burden on landfills that overflow.
Source: http://www.hurricanehauling.com/
via Hurricane Hauling and Demolition Starts Deconstruction to Save on Construction Material and Ecology.