Hurricane Hauling and Demolition Inc. , a Marin based demolition and hauling company that performs work throughout the greater Bay Area, has recently begun a major project using a deconstruction process that protects both the Earth and the owner's pocketbook.    Deconstruction is the first step in green building, as materials that would normally end up in landfill become reused and recycled.
According to a report by McGraw Hill Construction with support from Waste Management, in 2007 more than 143 million tons of construction and demolition waste was generated, and less than 30% of this was reused, recycled, or repurposed. The remaining 100 plus tons went directly to landfill. Hurricane Hauling hopes that their ability to deconstruct and reuse much of the waste from their projects, such as the house in Mill Valley, will help not only encourage others to follow suit, but also inform about how beneficial it can be to both the environment and property owners.
Although deconstruction is more labor intensive than straight demolition, homeowners often end up saving money in the end. Deconstruction is the process of breaking down a building into all of its smallest parts (lumber, plywood, shingles, cabinets, doors, windows, carpeting, plumbing and electrical fixtures, etc.) and then either reusing or donating these salvaged materials. According to Molly Samietz, founder of Donation Solutions and lead appraiser of the Mill Valley deconstruction project, in many cases up to 85% of a home can be re-used or donated. This offers a huge benefit to those who value sustainability and want to lessen the burden on overflowing landfills.
When deciding to remodel, the owners of the Mill Valley residence chose to look into the option of home deconstruction and found this method was not only beneficial from an environmental but also a financial perspective. The value of used building material donations are quite substantial, providing private building owners with a sizeable tax credit- one that can sometimes be divided over a period of years. In addition, the deconstruction process significantly reduces hauling and disposal fees.
Jim Josephs, the general contractor for the project, is in full support of the deconstruction project. He states how in the past, he would be hired to come in with a bull dozer and literally tear down everything to the ground, load it into debris boxes and haul it off to a dump or designated landfill. "This is a much smarter way- almost all the materials are reused instead of going into landfill, the homeowner gets a tax break and saves money, and it's better for the environment – everyone wins."
In the end, deconstruction makes sense, not only as being an economically viable option, but also because of the huge social and environmental benefits as well. If you are considering demolishing or renovating a house or building, contact Hurricane Hauling and Demolition to ensure your project is done properly, with maximum benefit to both you and the environment.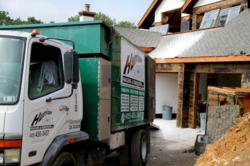 About Hurricane Hauling & Demolition Inc.
Hurricane Hauling and Demolition Inc., family owned and locally operated since 1989, is committed to providing quality service and customer satisfaction while running an environmentally friendly business. Working throughout the seven Bay Area counties with experienced crews, a fleet of trucks, and equipment to handle both large and small commercial and residential projects, customers are guaranteed professional services at competitive rates.
via Marin Demolition Company Starts New Project with Ecologically Friendly Deconstruction Process.