Industrial Sofa Table from rough sawn old growth Douglas Fir with hairpin legs.
This wood has been salvaged and reclaimed, every piece has been used, now it can be used again!
This piece is made with black angle iron, steel hairpin legs, and brown roughsawn salvaged barnwood.
Table has been sealed with Shellac (shellac is a resin secreted by the female lac bug, on trees in the forests of India and Thailand. It is processed and sold as dry flakes, which are dissolved in ethyl alcohol to make liquid shellac, which is used as a brush-on colorant, food glaze and wood finish. Shellac functions as a tough natural primer sanding sealant, tannin-blocker, odour-blocker, stain, and varnish).
The particular table that you receive may have slightly different characteristics than the one in the picture. Most antique barn wood was logged from old growth trees 50-150 years ago.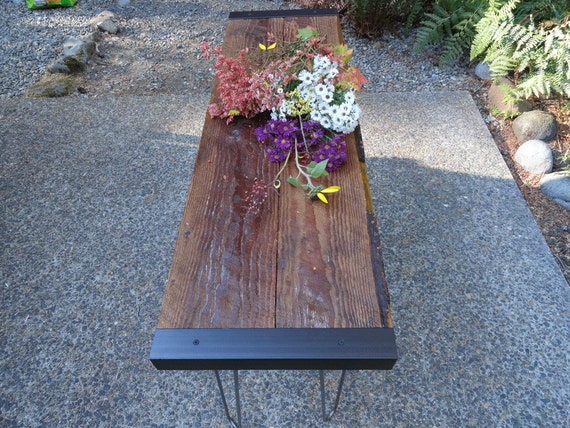 via Industrial Sofa Table from salvaged barnwood by MtHoodWoodWorks.