Workers from Heritage Timber remove a truss from an old mill shed at the city of Missoula shops on Scott Street on Monday. The company is dismantling and recycling the building after one of the supports was damaged, and the city plans to construct a new building in its place.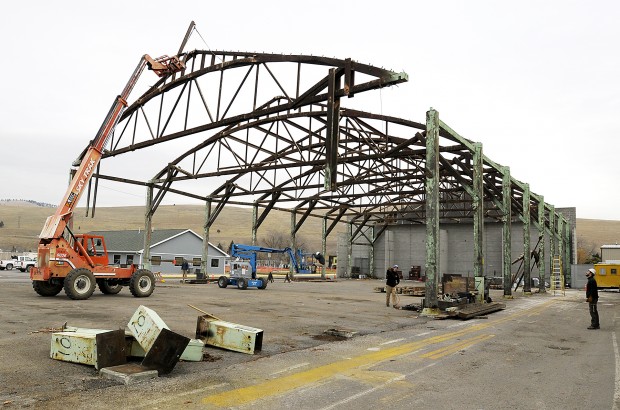 The gray sky was visible through the trusses that still stood Monday as part of the old mill shed, but the skeleton shell of the building was coming down piece by piece.
At the city maintenance yard just off the Scott Street Bridge, workers with Heritage Timber stacked old cut wood, lowered trusses and piled metal brackets into a wooden bin. A few weeks ago, a driver damaged the already old building beyond repair, and a crew from Heritage stepped in to reclaim the materials, said Heritage's Gary Delp.Delp, whose company has deconstructed more than 150 obsolete buildings, had talked earlier with city shops superintendent Jack Stucky about eventually taking down the mill shed.
On Monday as he and the crew worked on the 1930s- or 1940s-era structure, he said the project is a win for the city of Missoula, a boon for Heritage Timber and an opportunity for the people of Missoula, too.
For the city? "It's a win because it would have been a very costly job to go the conventional route of demolition."
For Heritage? "For us, it's a good deal because there's about 40,000 board feet of wood and another 18,000 feet of metal."
For people who live in the area? "It gives people in the community an opportunity to have a piece of Missoula history or Montana history in their homes or businesses."
Heritage does the work for free, but it benefits because it acquires high-quality materials along the way. Delp wouldn't estimate how much the timber and metal was worth in all, but he said most of the material, 98 percent to 99 percent, was salvageable, and the job put five people to work for a few weeks.
He also said almost nothing but rotted ends will go to the dump. The job yields a lot of useable construction, including "gorgeous, rough-sawn fir," and it's a benefit for the environment because 90 percent of the energy is saved when materials are reused, according to Heritage.
"There aren't many big sawmills left, so we like to do these types of industrial buildings," Delp said. "That's really our favorite type."
via Company dismantles building at city of Missoula maintenance site for reuse.