Starting to spot a trend in architectural salvage stores moonlighting as wedding venues.  It is both unique and romantic, not to mention it covers the "something old" requirement.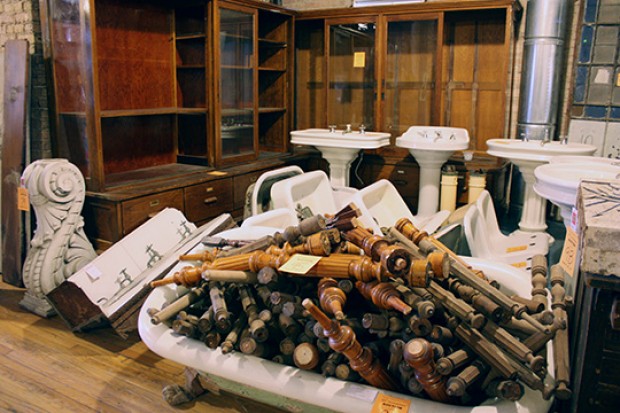 Architectural salvage shops were born of a desire to save expert craftsmanship from the rubbish bin. Generally, when a building is being demolished, demolition firms have the task of discarding all the materials. While some elements can be recycled or sold as scrap, there's little differentiation in style, which means that pieces of finely crafted ornamentation are often treated the same as run-of-the-mill lumber, equally destined for the trash heap, incinerator, or recycling plant. Architectural enthusiasts were aghast to see these antiques going to waste, and in the 1980s, pioneer salvage vendors began making deals with demolition firms in order to save these treasures and pass them on to interested buyers…

…This strong connection between the past and the present has spoken so deeply to so many people that Salvage One, a store in Chicago, has become a popular wedding venue, often booking ceremonies up to a year in advance. Lauren Berger, a bride who will be married there in January, explained why the setting appealed to her: "I can't help but daydream about the history of it all–the salvaged windows, doors, doorknobs–and the places these pieces once lived in. I love that our guests will get to explore and discover pieces from the past as we celebrate our future as husband & wife."
via Collecting Forgotten Tales: The lost worlds of architectural salvage : Home & Garden.