CARTM has one of the best ever reuse design contest party. The Trashion Show and Upcycle Party brings the entire community out every year. This is serious fun.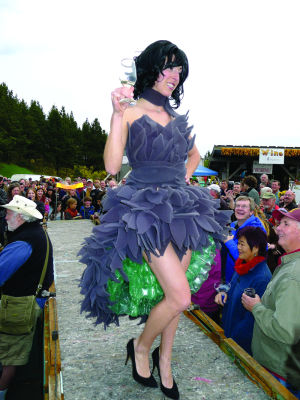 "Trashionista" Julie 'Fig' Yanko models her evening wear made from foam packing material and bubble wrap. Two workshops are scheduled to assist community members with the making of "trashion" for the TSUP event on Oct. 12.
Re-think fall fashion…think Trashion! CARTM's beloved Trashion Show & Upcycle Party (TSUP) event is right around the corner, so it is time once again to get out the sewing machines and create some "hot couture." The second annual show, which will take place on Saturday, Oct. 12, 7 p.m. at the NCRD auditorium in Nehalem, is seeking participants who want to sew, strut or be part of the audience for this unique happening.
via CARTM prepares for second annual Trashion Show & Upcycle Party – Tillamook Headlight-Herald: News.