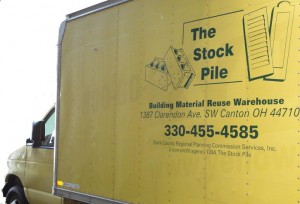 Sarsany said she and Gerber just completed writing a grant that would fund worker training in the area of deconstruction.

"This would allow us to bring on more employees and add a lot more materials in the store. At the moment we are 'cherry picking' and taking the materials that can be easily removed," said Sarsany.

The company is currently scheduling partial deconstruction projects for the spring. "If you are thinking about remodeling why not let The Stock Pile do your deconstruction so your old materials can go toward improving someone else's home," Gerber said.

To schedule an appointment or check out the products go to www.thestockpile.org
via The Akron Legal News.