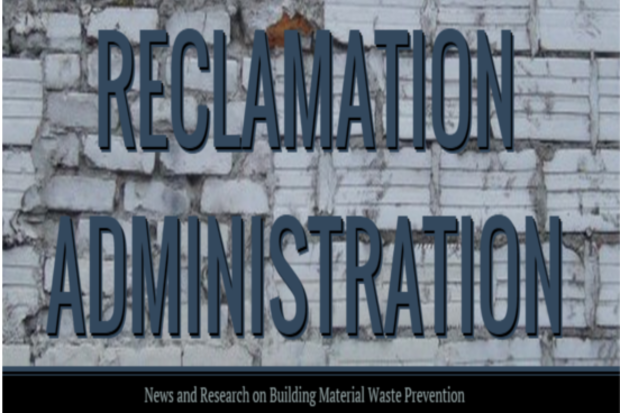 Since 2011 the RA has been a primary site for news and research on building material waste prevention. Posts on projects, programs, policy, people and the amazing progress made in reclaiming beautiful materials from going to waste!
Over 3,000 links to inspiring stories, collaboration, and design

Resource pages on reuse centers, regional policy, reuse design links

Original content articles, featured artists, announcements, and internships
The building material reuse community is a thriving growing industry of professionals and policy-makers who are changing the world for the better! The Reclamation Administration is uniting this diverse community through daily news.
This free site needs capital to evolve. We need $5,000 for:
Publication of our First Book on reclaimed designs by the talented craftspeople featured over the years
New Logo and Marketing campaign to reach more readers

Additional supply & demand Resource Pages to connect people to materials

To become a Limited Liability Corporation: The Reclamation Administration, LLC
If the funding goal isn't reached, The Reclamation Administration will continue to provide these services but at a much slower pace. There is a high demand for inspirational news on reclaimed building materials – and we want to answer the call!
The Impact
The RA is an ongoing source of inspiration for design, policy, collaboration, business, environmental issues, job creation, and education.  The RA features daily information highlighting the "Triple Bottom Line" model of sustainability.  The RA provides daily news that People, Planet, and Profit are synergistic when reclaiming building materials.
Social change in the form of job creation, and the establishment of Deconstruction as a Trade Skill
 Environmental and ecological impact through reducing the waste stream and limiting the need for consuming raw materials
 Financial profit from creating a new industry in harvesting and producing products from reclaimed building materials
Over 100,000 people have visited the RA since it's creation with an average of 100 new visitors a day. Over 400 readers are dedicated followers.
Risks & Challenges
The RA has been operating as a blog for over three years.  The new funds will go to registering The Reclamation Administration as a LLC. The RA is a Social Entrepreneurship – a business with a mission and we have a lot more to learn!
Here's what we have so far:
Over three years of support in consistent & reliable information on building material reuse

Partnerships with national organizations, businesses, craftspeople, and government

Small business graduate through Mercy Corps North West
Other Ways You Can Help
If you can't contribute financially send us your news instead!  We are always looking to spread the word and hear people's stories on reuse. Send our campaign to someone you know, take a moment to pass it on – thank you.
Get the word out about The Reclamation Administration

Use the Indiegogo share tools!