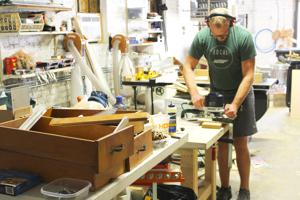 Justin Keyes • The Daily Beacon: The communal studio brings Knoxville together into a creative space.
"We've gone from that little to no cleaning of items to slowly getting to the point where we are creating new things out of salvage," Meadows said. "There are different people around Knoxville who have taken items and refurbished them for us."

The collaboration with local artists doesn't stop there. To help offset costs and to promote further community outreach, the Salvage Shop shares their new space with several local artists.
via Salvage Shop combines creativity with utility – The Daily Beacon: Arts And Culture.